MOIT VIETNAM | Int'l economic forum to discuss innovation
/ Upcoming events / Exhibitions - Trade fairs
Int'l economic forum to discuss innovation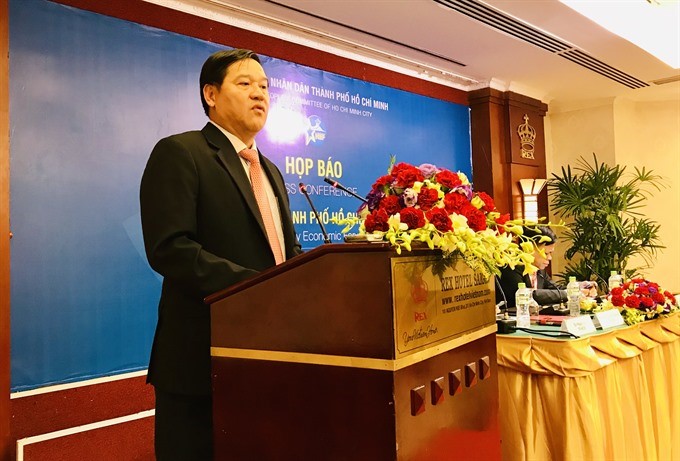 Chu Tiến Dũng, chairman of the HCM City Union of Business Association, speaks at a press conference held on Wednesday in HCM City. — VNS Photo Bồ Xuân Hiệp
HCM CITY — Building HCM City into an innovative business hub in the Southeast Asian region will top the agenda of the HCM City Economic Forum to be held in the city on November 23.
The forum, with the theme "Fostering Interactive and Innovative Districts: the Prominent Role of Businesses", will focus on the transformation of the city's eastern area, including districts 2, 9 and Thủ Đức, into an innovative hub.
More than 600 local and international experts, scientists, academics and representatives from local and foreign businesses are expected to participate in the two-day event, the first of its kind organised by the city government. Key leaders from the Government and State agencies will also attend the event.
The event will discuss the role of businesses, especially start-ups, in building an innovative and competitive city.
Speaking at a press conference in the city on Wednesday, Chu Tiến Dũng, chairman of the HCM City Union of Business Association (HUBA), said: "The city will continue to foster its sustainable development by improving growth quality and competitiveness through healthy economic restructuring."
Dũng said the city would ensure a favourable business environment for enterprises, encouraging start-ups, innovation and smart-city measures.
The forum will feature speakers from respected companies, organisations and educational institutions around the world.
"The city will also introduce a project to develop the eastern part of the city into an innovative urban area, which will be discussed at the forum," Dũng told the Việt Nam News.
The event is expected to connect Vietnamese businesses with investors in many fields from other countries.
Phạm Trần Thanh Thảo, an assistant to the director of the city's Department of External Relations, said: "International cooperation plays a key role in developing HCM City into an innovative and sustainable hub."
"With a focus on a knowledge-based economy, HCM City wants to receive opinions from the forum and seek cooperation from foreign investors," she added.
The forum, organised by HUBA and the HCM City Department of External Relations, will discuss how HCM City can learn from innovative urban areas that are contributing to sustainable development.
The forum will also include input from experts, businesses and investors on measures for enhanced connections between enterprises, research institutes and the Government.
The event is expected to be held annually to discuss HCM City's progress in applying innovative and sustainable development.
Source: VNS