MOIT VIETNAM | Vietnam calls for inclusive Mekong – Lancang cooperation
/ News
Vietnam calls for inclusive Mekong – Lancang cooperation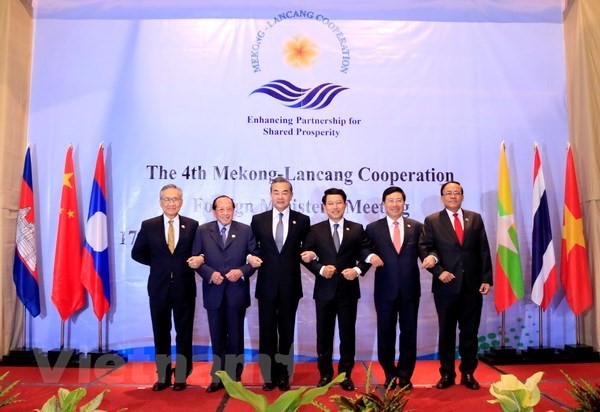 Foreign Ministers of Mekong – Lancang Cooperation nations (Source: VNA)

Vientiane – Deputy Prime Minister and Foreign Minister Pham Binh Minh on December 17 joined FMs of Cambodia, Laos, Myanmar, Thailand and China at the fourth Mekong – Lancang Cooperation (MLC) Foreign Ministers' Meeting in Vientiane, Laos.

Speaking at the event, Minh appreciated efforts made by MLC nations to carry out the Sanya Declaration and the five-year Plan of Action for 2018-2022 approved at the second Mekong-Lancang Cooperation Leaders' Meeting in January 2018.

Cooperation between Mekong-Lancang countries should ensure projects are inclusive and bring about equal benefits for all member states, while paying attention to boosting coordination between MLC and other Mekong and regional cooperative mechanisms such as the Association of Southeast Asian Nations (ASEAN) and the Mekong River Commission (MRC).

It is necessary to concentrate resources on implementing the five prioritized fields which are water resource connection, production capacity, cross-border economic collaboration, agriculture and poverty reduction, he stated, suggesting the parties address bottlenecks in commodity circulation, work to open up the Chinese market for farm produce from Mekong countries, help enterprises understand more about import-export regulations, step up technology transfer to help Mekong countries develop rice and food crop varieties adaptive to climate change, and intensify management over cross-border labour.

The Vietnamese representative also underlined the need for the six MLC nations to reform the way of thinking and working methods in their cooperation in the management and sustainable use of Mekong River water source so as to successfully respond to common challenges in the region.

The fourth MLC Foreign Ministers' Meeting, themed "Enhancing Partnership for Shared Prosperity", acknowledged the positive outcomes in MLC cooperation in 2018.

The ministers agreed to step up the implementation of the five-year Plan of Action, and consider initiatives to boost cooperation in production capacity, regional connectivity, trade, energy, customs, health, education and the building of a MLC economic corridor.
They also reached a consensus on strengthening MCL's connectivity with national development strategies and relevant regional and sub-regional cooperative mechanisms such as ASEAN, MRC, the Greater Mekong Subregion (GMS) and the Ayeyawady-Chao Phraya-Mekong Economic Cooperation Strategy (ACMECS).

For Mekong River water cooperation, the delegates welcomed the agreement reached by the six countries' experts on an Action Plan on Water Resource Cooperation for 2018-2022, while urging the countries to proactively carry out the plan.

Concluding the event, the ministers approved a joint press communiqué and agreed that the next MLC Foreign Ministers' Meeting will be held in China in 2019.
Source: VNA