MOIT VIETNAM | Prime Minister leaves for 33rd ASEAN Summit in Singapore
/ News / Activities
Prime Minister leaves for 33rd ASEAN Summit in Singapore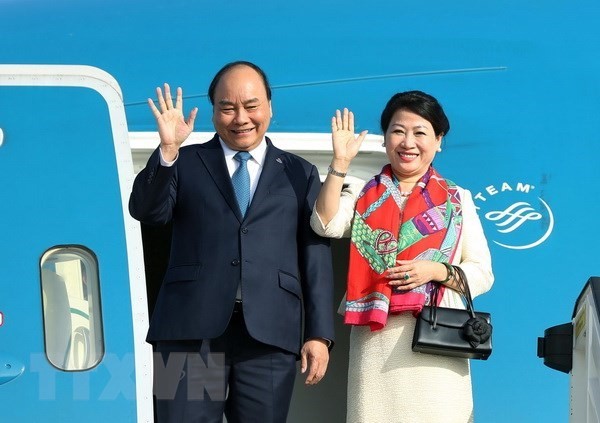 Prime Minister Nguyen Xuan Phuc and his spouse (Photo: VNA)

Hanoi - Prime Minister Nguyen Xuan Phuc and his spouse left Hanoi on November 13 morning for the 33rd ASEAN Summit and related high-level meetings in Singapore from November 13-15 at the invitation of Singaporean Prime Minister Lee Hsien Loong.

PM Phuc and his spouse are accompanied by Deputy Prime Minister cum Minister of Foreign Affairs Pham Binh Minh, Minister-Chairman of the Government Office Mai Tien Dung, and Minister of Industry and Trade Tran Tuan Anh.

Joining the delegation also included Deputy Minister of Public Security Bui Van Nam, Deputy Minister of Foreign Affairs and Head of Vietnam ASEAN SOM Nguyen Quoc Dung, and other senior officials.

The 33rd ASEAN Summit is the 2nd summit in 2018 under the ASEAN Chairmanship of Singapore.

Themed "Building a resilient and innovative ASEAN," ASEAN leaders will discuss ways to promote cooperation, including increased cooperation in economy, trade, infrastructure development; strengthen connectivity, cooperate to cope with the changes in the world economy; adapt to the Industry 4.0 and address global challenges.

The leaders will also discuss other issues of mutual concern to contribute to the maintenance of peace, stability, cooperation and development in the region and the world.

The Association of Southeast Asian Nations (ASEAN) comprises 10 member states, namely Brunei, Cambodia, Indonesia, Laos, Malaysia, Myanmar, the Philippines, Singapore, Thailand and Vietnam.
Source: VNA
Others

/ News

Vientiane – Deputy Prime Minister and Foreign Minister Pham Binh Minh on December 17 joined FMs of Cambodia, Laos, Myanmar, Thailand and China at t...

/ News / Activities

Vientiane – Deputy Prime Minister and Foreign Minister Pham Binh Minh held talks with Chinese State Councilor and Foreign Minister Wang Yi on Decem...

/ News

Phnom Penh – The supreme courts of Vietnam, Laos and Cambodia have agreed to strengthen bonds in the combat against criminals and the settlement of...