MOIT VIETNAM | Party, State leader Nguyễn Phú Trọng welcomes Lao counterpart
/ News / Activities
Party, State leader Nguyễn Phú Trọng welcomes Lao counterpart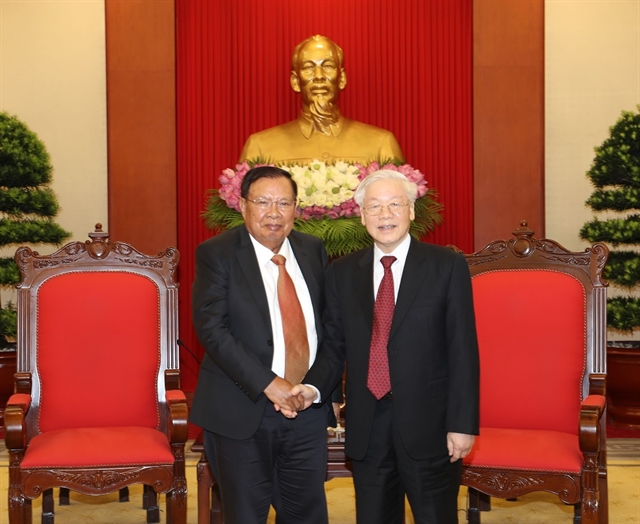 Party General Secretary, President Nguyễn Phú Trọng (right) meets his Laos' counterpart Bounnhang Vorachith in Hà Nội yesterday. VNA/VNS Photo Trí Dũng
HÀ NỘI Party General Secretary, President Nguyễn Phú Trọng hosted a reception for his Lao counterpart Bounnhang Volachith in Hà Nội on Friday.
The leaders congratulated the other country on important achievements in external and internal affairs after more than three years of implementing resolutions of the national congresses of the Communist Party of Việt Nam (CPV) and the Lao People's Revolutionary Party (LPRP).
They expressed their belief that under the leadership of the CPV and LPRP, both countries would continue gaining greater accomplishments in the cause of national reform, construction and defence, as well as implement successfully the targets set by the national congresses of each Party.
Both leaders showed their delight at the practical and effective development of Việt Nam-Laos relations in all fields, thus bringing benefits to their peoples and contributing to peace, stability, cooperation and development in the region and beyond.
They highly appreciated the timely and effective support and assistance that the two Parties and States have provided each other.
The leaders agreed to closely work together to effectively implement agreements between the two countries' senior leaders as well as spare no effort to preserve and nurture the traditional friendship, special solidarity and comprehensive cooperation between Việt Nam and Laos, and pass the relationship to younger generations.
Chủ nhà và khách đã thông báo cho nhau về tình hình ở Việt Nam và Lào, đặc biệt là xây dựng Đảng, bao gồm cả việc chuẩn bị cho các Đại hội Đảng toàn cấp hướng tới Đại hội toàn quốc của ĐCSVN và LPRP.
Họ cũng thảo luận về các tình huống khu vực và toàn cầu và trao đổi quan điểm về các biện pháp thúc đẩy sự đoàn kết đặc biệt giữa Việt Nam và Lào trong tương lai. VNS