MOIT VIETNAM | APEC – driver of world economy: Trade Minister
/ News / Activities
APEC – driver of world economy: Trade Minister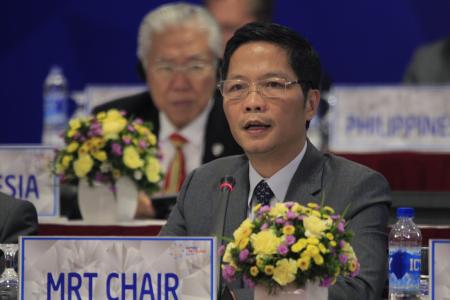 The Asia-Pacific Economic Cooperation (APEC) region will maintain its motive force position in the global economy and continue contributing to the world economic growth through its huge production, consumption, and services supply power.
Minister of Industry and Trade Tran Tuan Anh made the statement in an interview granted to Vietnam News Agency on the threshold of the 23rd Meeting of APEC Ministers Responsible for Trade (MRT 23) to be held in Hanoi on May 20-21.
He affirmed that over the past 28 years, APEC economies have recorded impressive growth. The region's gross domestic product (GDP) increased from 16 trillion USD in 1989 to over 20 trillion USD in 2016, with per capita income rising by 74 percent.
Regarding trade, Anh noted that the region's average tax rate declined from 11 percent in 1996 to 5.5 percent in 2016, which reflected efforts made by the region and each economy to implement cooperative activities on trade liberalisation and trade and investment facilitation.
The International Monetary Fund's Regional Economic Outlook for Asia and the Pacific estimates growth for the region to increase this year to 5.5 percent from 5.3 percent in 2016, he revealed.
The minister emphasised the need for APEC economies to coordinate harmoniously in building a general trade system towards equality and balance, for interests of people and businesses and for prosperity of society.
"Specially, we need to always define shortcomings of globalisation and trade liberalisation so to take thorough and sustainable moves that ensure each economy's benefits harmoniously," he said.
In fact, Vietnam also has economic sectors where people and businesses are vulnerable to negative impacts of the globalisation process. Therefore, it is necessary to consider demand, capacity and specific conditions to ensure the integration are feasible, effective, and transparent.
"Once equality in the integration framework and commitments to joining the globalisation process are achieved, each economy's sustainable development, social equality and prosperity will be guaranteed," he added.
Regarding the MRT 23, Minister Anh said that Vietnam gives high priority to main outcomes that need to be reached during the event with a hope to coordinate with other APEC economies in building a peaceful, stable, and prosperous Asia-Pacific region.
Within the MRT 23 framework, Vietnam wants ministers to review achievements and discuss responsibly cooperative agreements and orientations on trade development towards trade liberalisation, he added
Others

/ News

Vientiane – Deputy Prime Minister and Foreign Minister Pham Binh Minh on December 17 joined FMs of Cambodia, Laos, Myanmar, Thailand and China at t...

/ News / Activities

Vientiane – Deputy Prime Minister and Foreign Minister Pham Binh Minh held talks with Chinese State Councilor and Foreign Minister Wang Yi on Decem...

/ News

Phnom Penh – The supreme courts of Vietnam, Laos and Cambodia have agreed to strengthen bonds in the combat against criminals and the settlement of...